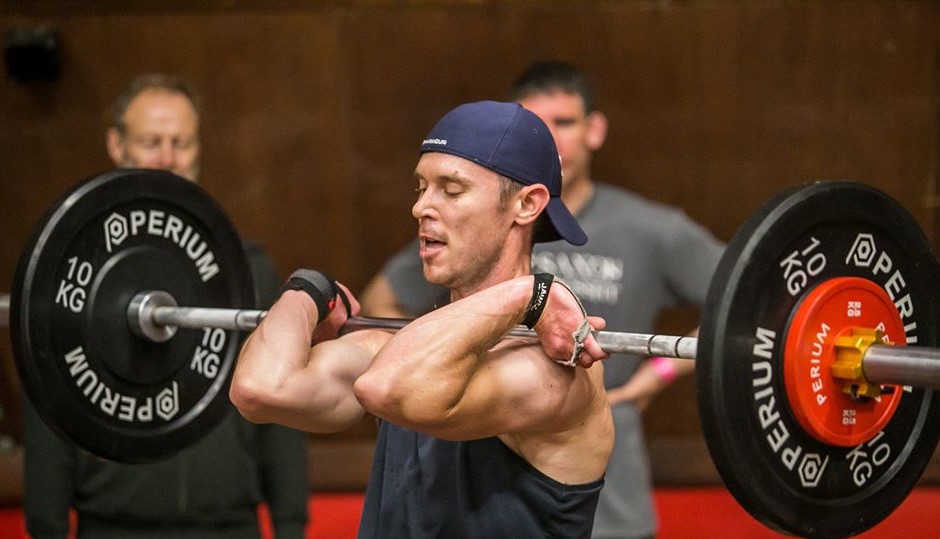 The Saxon coaching team are stoked to announce our October Member of the Month as the awesome Tim Barger!
Tim joined Saxon in February this year and he's been crushing it since day one. He works hard, is keen to learn and is incredibly consistent in his training. The progress Tim has made has been pretty amazing and he has his own hard work to thank for it!
Tim always arrives early and stays a little late to work on movements and skills he is less familiar with and is always keen to talk to the coaches to harvest any information he can on fitness – he also brings a wealth of his own knowledge from his medical background.
Tim took the competitive plunge a few weeks ago and threw his hat in the ring at the Suffolk Games, his first external competition. He performed excellently, clearly giving every workout his all – working hard enough to remove his trademark baseball cap mid-wod on several occassions!
Tim isn't only a great athlete but is also an awesome member of our wider community. He has introduced both his wife and children to the Saxon classes, got involved in our In-House competitions and events and is forming part of the massive Saxon contingent heading over to Portugal next May for Tribal Clash!
We can't wait to see where Tim is at by the time he reaches a year with us early next year and expect that he will crush 2020 even more!
We asked Tim:
What bought you to Saxon CrossFit?
I was looking to start exercising again after a long period off. Coincidentally I watched the Netflix documentary 'fittest one earth' and thought that looks awesome.
What's the biggest change Saxon CrossFit has had on your life?
Saxon has been great for my physical fitness and been amazing for relieving stress. It's helped my self confidence and self belief. I've met loads of really nice people also.
What's your favourite thing about Saxon?
It's hard to pick out one favourite thing. The coaches are awesome and have been really welcoming. The workouts are so varied that they keep you on your toes. However it has to be the members: this was really apparent at the Suffolk games where the other Saxon teams and supporters were amazing.
What's your ideal workout?
I like a long amrap with running and gymnastics.
Describe Saxon CrossFit in 3 words.
Motivating. Addictive. Challenging.
Tell us something about you that the other members won't know?
I have a blackbelt in the Choy Li Fut style of Kung-fu which I completed in 2009.